Glass Partitions Manchester
TEL: 01616351984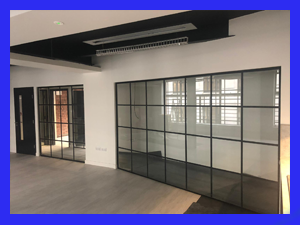 Welcome to Glass Partitions Manchester, your premier destination for transforming your living or working spaces into modern, functional, and aesthetically pleasing environments. With our wide range of glass partition solutions, we can help you maximize space utilization while creating a visually stunning atmosphere. Whether you are looking for commercial or residential applications, we have the expertise to cater to all your needs.
At Glass Partitions Manchester, we understand the importance of having well-designed spaces that reflect your style, while also being practical and adaptable. Our
glass partitions
offer a seamless blend of form and function, providing a versatile solution for dividing spaces without compromising on natural light or visual connectivity.
Why Choose Glass Partitions?
Glass partitions have become increasingly popular in Manchester due to their numerous benefits. First and foremost, they allow for the efficient utilization of available space by creating separate areas within a room. This is particularly advantageous in commercial settings, where maximizing space without compromising on privacy is crucial. In residential applications, glass partitions can create a sense of distinct zones within an open floor plan, allowing for greater flexibility and functionality.
Another advantage of glass partitions is their ability to enhance the flow of natural light throughout a space. Unlike traditional walls, glass partitions don't obstruct the passage of light, creating a bright and open ambience. This promotes a positive atmosphere, increases productivity in workplaces, and creates an inviting environment for visitors and residents alike.
Moreover, glass partitions offer acoustic insulation, minimizing noise transmission between divided areas. This can be particularly beneficial in offices, conference rooms, or other spaces where privacy and concentration are paramount.
At Glass Partitions Manchester, we offer a comprehensive range of glass partition systems, designed to meet the diverse needs of our clients.
Frameless Glass Partitions: Our frameless glass partitions provide a sleek and contemporary look, blending seamlessly with any existing interior design. These partitions are held together by discreet and minimal fixings, giving the impression of continuous glass surfaces.
Framed Glass Partitions: For a more robust and visually defined partitioning system, our framed glass partitions offer durability and flexibility. The aluminum frames can be customized to match your color scheme, creating a cohesive aesthetic.
Glass Doors
: Complementing our
glass partitions
, we provide a wide range of glass doors, including hinged, sliding, and folding options. These doors offer a practical solution for creating separate entrances or sections within a space.
Bespoke Design: We understand that each client has unique requirements. Our team of experts will work closely with you to design and install customized glass partitions that perfectly meet your specifications. We take pride in our attention to detail and craftsmanship, ensuring that every project is delivered to the highest standards.
In Conclusion
Glass Partitions Mancheste
r is your trusted partner in creating modern, functional, and visually appealing spaces. Whether you are looking to enhance your commercial premises or transform your living areas, our glass partition solutions will exceed your expectations.
Contact us today
to discuss your project and let us help you bring your vision to life.