Glass Partitions Manchester
TEL: 01616351984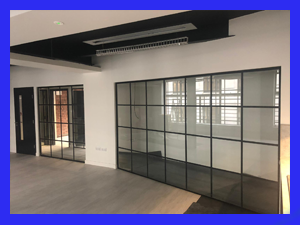 Many offices right now are going for glass partitions Manchester, to create the work space that truly works for them. Are you looking for a way to improve your space's layout and usability? Then you need to be looking into glass partitions for your building. Here's why they're so beneficial to staff, and why you should hire us to handle them for you.
Why Go With Glass Partitions Manchester?
Firstly, you need to know why glass partitions Manchester are becoming so popular with business owners in the area. What makes them a good option, no matter what your office does? Here's a few reasons why you should be considering them for your building.
No light blocking: When using a regular wall or partition, there's always the risk that you'll end up blocking the light out. There are only so many windows in your space, and if you put up a wall in front of it, that light source is gone. You of course don't want to do that, so it feels as though you don't have many options for office customisation. That isn't true with glass partitions Manchester, however.
With these partitions, they will of course let light through. You don't have to worry about blocking out any light, so you can take advantage of all the natural light available to you. Glass partitions Manchester ensure that you can create a well lit work environment, no matter how you lay the office out.
Create all kinds of spaces: Every business is different, and so it has different needs from the office space it has. Glass partitions Manchester are great because they offer a lot more in terms of customisation of your building.
You can create all kinds of things with glass partitions Manchester. Need to create individual offices? Then use partitions to section them off, complete with glass doors. Need a meeting space? That can be created with partitions. You can even make a reception area, break room, or any other kind of room with them. You can get creative with them, and make an office that suits your needs perfectly.
Sound dampening: One of the great things about glass partitions Manchester is that they have excellent sound dampening properties. This is so useful, especially if you have a modern office where everything is open plan. Sometimes you're going to need somewhere where you can take a call in private, and a room with these partitions is just the thing.
It's also perfect for those who need to work, either separately or as a group, away from the rest of the office. If your staff take a lot of calls on the main floor, and you need a group to work on a project, working in a meeting room with glass partitions Manchester will help muffle that sound.
Keep visual contact: There are some benefits to using full walls or regular partitions in your office, but the fact is they will cut the space off from the rest of the office. If you're working in a partitioned space, you won't be able to see what's happening elsewhere. This is something that won't happen with glass partitions Manchester
If you use these to create separate rooms, then no one is cut off from the action. While they will certainly muffle sound, you'll still be able to see what's going on. That's important to your staff, as they need to be part of the main office even when they're working away from the rest of the team. That's something you can only get with glass partitions Manchester.
Get a modern look: Finally, one of the biggest advantages of glass partitions Manchester is that they give the office a much more modern look overall. That's something that's more important than you'd think, to both your staff and visitors alike.
 To visitors, those glass partitions Manchester will show that you're a company that's up to date, and ready to handle any challenge that comes your way. For staff, it's going to be much more pleasant to work in a bright and modern looking workplace. That helps them be productive, as they have a more inspiring place to work in.
Why Choose Us For Glass Partitions Manchester?
If you've chosen to have glass partitions Manchester installed, then you'll need to find the right company to handle the work for you. Why should you go with us? We already have a lot of happy customers, for the following reasons:
Excellent pricing: We have ensured that our pricing is competitive, so when you start shopping around you'll be able to find excellent prices with us. We'll give you a free quote on the work you need, so you can get an idea of how much it will cost you.
 With our great pricing, you can get more for your budget and create a look that's perfect for your office.
Highly qualified team: We have a team of installers that have years of training and experience in fitting glass partitions Manchester. You'll soon see what a difference that makes when you book us in to fit them for you.
As we're so experienced, we can fit your glass partitions Manchester to the highest standard. The end result will be high quality, with workmanship that will last for years and years.
Quick installation: No business wants areas of their office out of commission for long. There's always going to be some disruption when it comes to installing glass partitions Manchester, but of course you want to keep it to a minimum.
That's something that we can do for you. We take great pride in our work as we can do it quickly, ensuring that everything is installed to the best standard without taking a long time to do so. You'll have your glass partitions Manchester, without having to deal with lots of building work and disruption.
There are so many reasons why you should look into glass partitions Manchester. Give us a call today for a quote, and create the office space that's just right for you.