Glass partitions are a great way to change up the look and feel of an office. They have a lot of practical benefits too, so you can really make your office more efficient overall. If you want to take your design one step further, though, why not go with curved glass partitions Manchester? They have so many benefits, and look amazing too. Here's everything you need to know about curved glass partitions.
Curved vs. Straight Partitions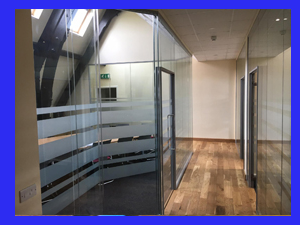 If you're already considering glass partitions, you'll need to consider whether you want to use curved or straight glass. Is there a major difference between them? In essence, it's just the shape that's changing. With straight panels you can create boxes that may work well with the look of your office space. Curved glass gives you the option to create rounder edges and a softer design.
Because of this, curved glass looks great when you use it in the middle of an office space. You can make small breakout spaces or even individual offices that will give you the separate spaces you need, while looking great.
Curved glass is seeing a rise in popularity right now. It's become one of the most modern ways to update your office and create a space that works for everyone. Many feel that the curved lines make a room feel softer and more comfortable, which is important when considering employees' well being.
With this in mind, you'll be able to consider whether you want straight or curved glass partitions Manchester. There's no rule that states you have to have one or the other, though. You can always mix things up, depending on your needs. If you're not sure, you can always talk to us and see what can be done in your office.
How To Use Curved Glass Partitions 
How can you use these partitions in your office? There's lots of ways you can put them to use and create an office that's perfect for you. Here's some ideas to get you started:
Meeting/breakout rooms: This is a very common use for curved glass partitions. You can place them anywhere and create an instant breakout room. It'll be light and airy, making it the best place to hold meetings or work on a project with a team. 
Offices and individual working rooms: This is another common use for curved glass partitions Manchester. You can make offices that are highly modern and exciting, which adds to the look of the office overall. If you don't need individually assigned offices but do need some individual working spaces, then you can create these too with glass partitions. 
Working 'pods': In an open plan office, you may have several teams that are working on different projects. If you add in curved glass panels around their 'pods', then you can give them the chance to work on their projects without being affected by the rest of the office. It's a good in between option between individual offices and open plan spaces.
Quiet hot desking spaces: You may not have considered this if you use hot desking in your office, but it's something to keep in mind. All workers will have different needs, and sometimes they just need a quiet space to work in. You can enclose several desks with curved glass partitions Manchester, and that gives employees the space to concentrate when they need to.
These are just a few suggestions. There are lots of ways to use curved glass partitions, so get creative. What does your office need? 
Benefits Of Glass Partitions
Why use glass partitions in the first place, though? There are lots of reasons why it may be just what you're looking for.
The biggest benefit is that light can shine through them. You'll be able to place them anywhere, and the light from windows can shine right through. No worrying about blocking off windows or being limited in where you can place those walls.
Plus, you'll be able to install them quicker, and there's partitions with sound dampening qualities too. There's a partition out there for every business.
Have you decided that curved glass partitions Manchester are for you? Call today and get a quote on your new office renovations.